Transition Effects: Plug-ins that provide additional page and object transition effects.
| | | |
| --- | --- | --- |
| | NeoAbout v1.0 | |
Hi All,

If you want do a funny aspect to your About dialog (or another...) feel free to try this plugin.

Aspect of the plugin: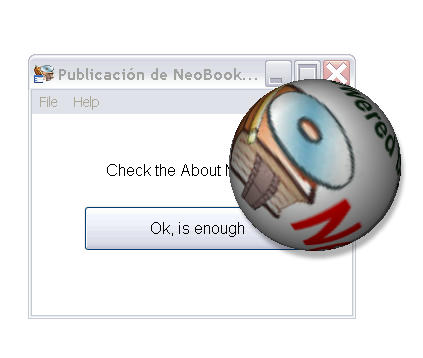 Plugin has 2 functions:



AE_About_Start



Usage:


AE_About_Start

"

ActivationKey" "Banner Image" "Shadow Image" "DelayTime"



Where:

ActivationKey: is the key I provide you when register.

Banner Image: is the [path]ImageName you want show on the ball. Image should be a PNG 256 x 128 x 16M colors.

Shadow Image: is the [path]ImageName used for the shadow on the ball. Image should be a PNG 178 x 169 x 16M colors.

DelayTime: is the time to refresh each frame on screen. Values between 15 (fast machines) to 50 (slow machines) are acceptable

Returns: Nothing.

Example



AE_About_Start

"yourkey" "About.png" "Shadow.png" "33"




-------------------------------------------------------------------------------------------



AE_About_End



Usage:


AE_About_End



Parameters: none
Returns: none.


Download Link:

http://www.mediafire.com/file/bu73s9p377nbd4u/NeoAboutPlugin.zip


Plugin is Shareware (u$s 15.-)

Enjoy it !

Daid de Argentina
Price: $15 | Platform: NeoBook 4/5 | License: Shareware | Limitations: Nag Screen
| | | |
| --- | --- | --- |
| | Billenium Transitions v2.0 | |
A high quality transition Plug-In can dramatically improve your publications. Just think on videos and TV commercials, they are plenty of them. Cross fades are even widely used in movies and TV programs.

NeoBook includes several transition effects but now you can get an extensive collection of professional transitions at a very affordable price: Billenium Transitions for NeoBook.

There are 14 different families of transitions, most of them with several variations so you get hundreds of effects. In fact, by using the 'Bitmap mask' transition you are only limited by your imagination as you can design your own effects. Full timing support (in milliseconds) allows you to obtain the same effect duration in any computer.

Our transitions have been extensively tested on thousands of computers worldwide. They are reliable and fast enough for use in not so powerful computers. What's more, they don't use DirectX or OpenGL so you can be confident that no driver or hardware problems will arise on your users computers.

Easy of use is one of our main goals. We provide a nice visual editor which can show a preview of the effect. Given the great number of parameters and variations we provide, this can save a lot of time if you are a perfectionist. What's more, you can change the transition kind (for example from a 'Roll' to a 'Bitmap mask') without leaving the editor.

If you prefer not to install the Plug-in you can download just a demo executable.

This plug-in has been designed for use in NeoBook 5. Previous versions of NeoBook are not compatible.
Price: $49.00 | Platform: NeoBook 5 | License: Shareware | Limitations: None